News from Morocco Earthquake – More than 2,000 people have lost their lives after a powerful earthquake struck the North African country of Morocco on Friday night. Thousands more have been injured. This earthquake is the strongest to hit the nation's center in over a century, and its epicenter was not far from the popular tourist and economic hub, Marrakech.
Morocco Earthquake: When and Where Did It Occur?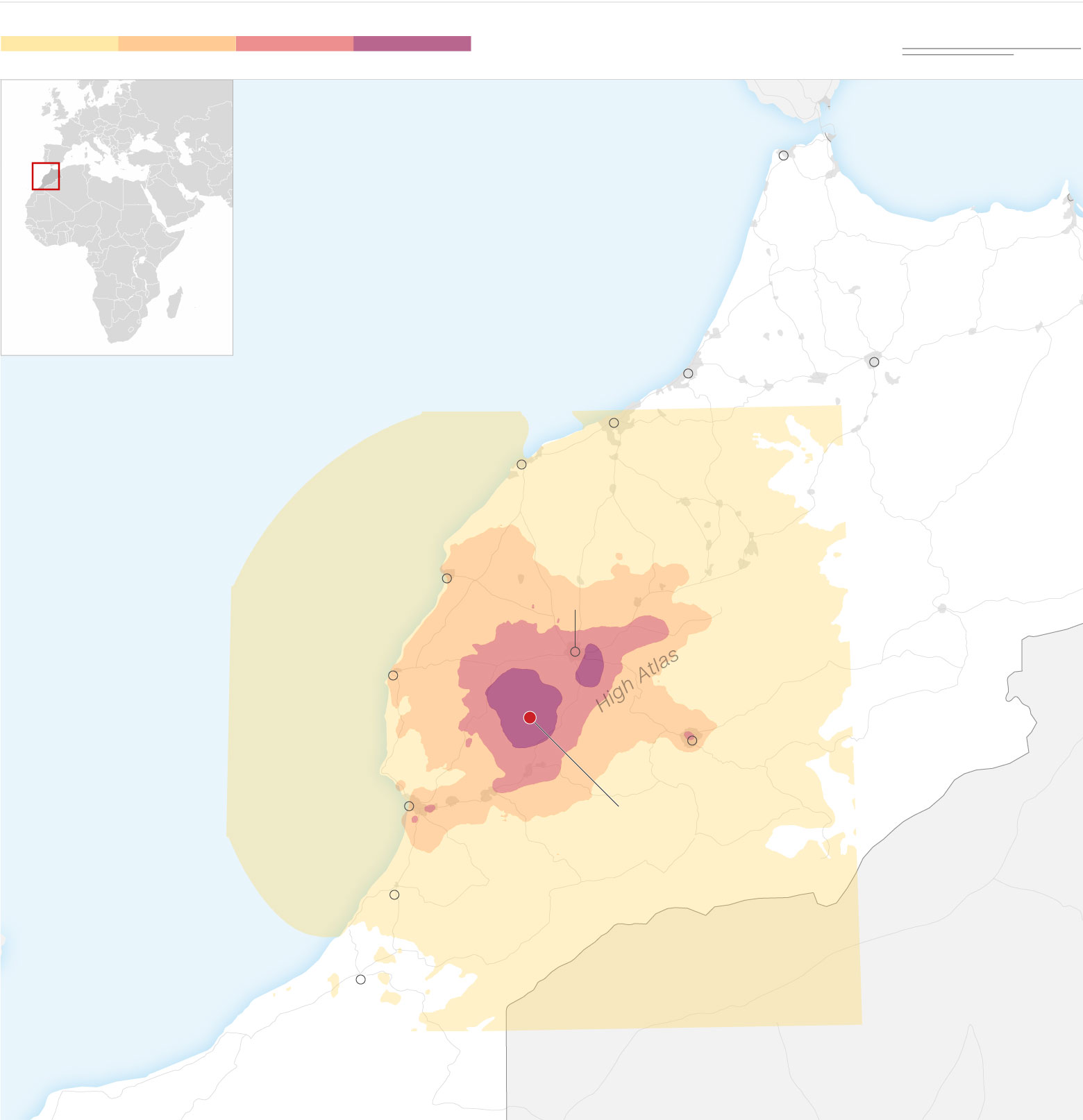 Morocco Earthquake: When and Where Did It Occur? (Source: US Geological Survey)
The earthquake occurred at around 11:11 p.m. local time (6:11 p.m. ET). Its epicenter was located in the High Atlas mountain range, approximately 72 kilometers (44.7 miles) southwest of Marrakech, a city with about 840,000 people. However, its impact was felt as far north as Casablanca.
How Strong Was the Earthquake?
The earthquake had a magnitude of 6.8, classifying it as "strong." It also occurred at a relatively shallow depth, making it more destructive. Earthquakes of this size in the region are rare, according to the US Geological Survey, though not unexpected. The survey noted that nine earthquakes with a magnitude of 5 or higher have struck the area since 1900, but none had a magnitude higher than 6.
Worst Damage Areas
On Saturday, residents sought shelter outdoors in a square in the aftermath of the earthquake. (Fadel Senna/AFP/Getty Images)
More than 300,000 people have been affected in Marrakech and surrounding areas, according to the WHO. Historic sites have been damaged, but the hardest-hit areas are those nearest to the Atlas Mountains. Eyewitnesses in the foothills of the mountains reported that some towns are completely destroyed, with almost all homes in an area of the village of Asni damaged.
What's Happening on the Ground?
Emergency workers were deployed to affected regions, despite some roads being damaged or blocked by debris. Some remote villages on the foothills of the mountains have been hard to access. Residents like Mohammed, 50, from the town of Ouirgane, have experienced devastating losses. "I managed to get out safely with my two children but lost the rest. My house is gone," he said.
Rescue operations are still ongoing, with hopes of finding survivors under the rubble. In Marrakech, some residents spent Saturday night on the streets, afraid to return to their homes, with warnings of aftershocks.
Morocco's government has activated all available resources to tackle the earthquake and urged people to "avoid panic." King Mohammed VI of Morocco has ordered relief efforts, declared three days of national mourning, and called for funeral prayers for the victims.
International Response
World leaders have expressed condolences and offered support to Morocco. France has activated emergency aid, while a Spanish search and rescue team, made up of 56 soldiers and four dogs, has arrived in Marrakech. Turkey, Britain, Algeria, the United Nations, and US President Joe Biden have also pledged assistance. Morocco's King Mohammed VI has thanked several countries for their aid.
The earthquake in Morocco has shaken the country with immense force, causing severe damage and loss of life. The swift international response and support from friendly nations are positive steps in the recovery efforts. Despite significant challenges, the spirit to assist and rebuild remains strong. Hopefully, the aid provided by the international community can help Morocco face this challenge and restore the affected areas.
This article was originally published as CNN on [Sun September 10, 2023].